Swansboro Rotary Civic Center
The Swansboro Rotary Civic Center is located at 1104 Main Street Extension in Swansboro, NC. With the ability to be transformed to suit almost any need, our building can seat a few or hundreds.
Our 14,118 square foot facility is frequently home to corporate meetings, seminars, training classes, weddings, class and family reunions, parties, and Marine Corps balls. We also specialize in entertainment events and business expos.
For more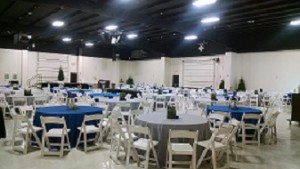 information, please contact us at:
civiccenter@swansbororotary.com or 910.326.6175